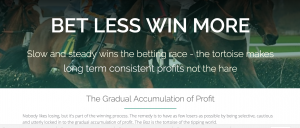 Bet Less Win More that's what Gary Boswell has promised members of his slow and steady, tortoise beats the hare over the long term service.
With small but regular profits most days this will suit those that can't tolerate a losing run.
Added to the daily Less Is More selections Gary also shares his Staggered Accumulators which target a big profit with no downside after the initial bet.
Full details here https://betlesswinmore.co.uk