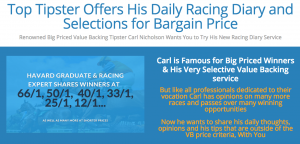 When Carl's Value Backing clients wanted more action and more of Carl's opinions we launched Carl's Racing Diary to fill the demand.
The service turned out to be a huge success and has overtaken his main service in profit and members.
If you like a value selection everyday with regular wins at big prices and all at a super value price then Carl Nicholson's Racing Diary is the service for you.
Click Here for more details http://valuebacking.com/diary